Yankee Pot Roast. In a Dutch oven, brown roast on all sides over medium-high heat in oil. Add the onions, carrots, celery, tomatoes, water, salt, thyme and pepper to the pan. In a large Dutch oven, brown roast in oil.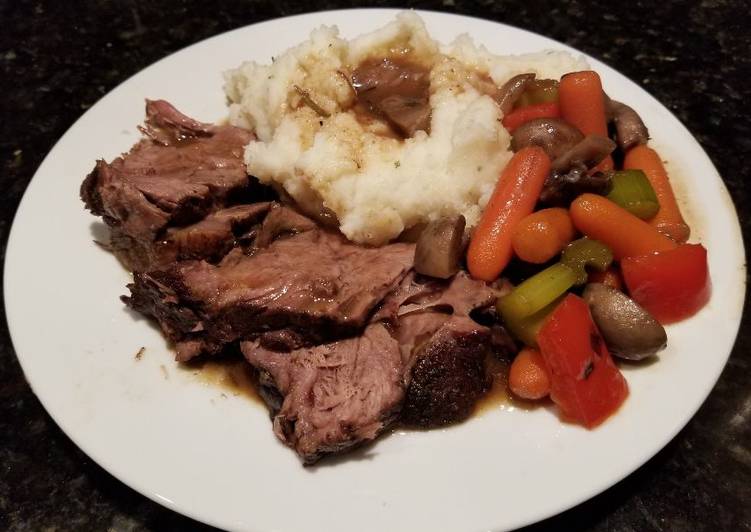 The pot roast is slowly simmered to perfection with potatoes, carrots, and diced rutabaga. It's a classic meal you can enjoy any time of the year. Our Yankee pot roast recipe calls for carrots, celery, and pearl onions, but you can swap them out for equal amounts of your favorite vegetables. You can cook Yankee Pot Roast using 18 ingredients and 9 steps. Here is how you achieve that.
Ingredients of Yankee Pot Roast
It's 1/3 cup of vegetable oil.
Prepare 1 of chuck roast (2-3 lbs.).
You need Dash of salt and black pepper.
You need 1 tsp. of paprika.
It's 1 tsp. of thyme.
Prepare 2 cups of beef broth.
It's 1 cup of red wine.
You need 1 of bay leaf.
Prepare 1 sprig of rosemary.
You need 1 of medium onion, cut into wedges (8 pieces).
Prepare 1 lb. of medium carrots, cut into 1-inch pieces.
You need 2 of celery stalks, cut into 1-inch pieces.
You need 1 can (6 oz.) of tomato paste.
Prepare 1/2 tsp. of clove (grated or powdered).
Prepare 1/2 tsp. of allspice (ground or powdered).
It's 1/4 cup of Marsala wine (optional).
You need 1 of red bell pepper, cut into 1-inch pieces.
You need 8 oz. of large mushrooms, halved or quartered.
We've also called for red wine (a common ingredient in modern pot roasts) for richer flavor. If you prefer not to use it, substitute extra beef stock. A traditional Yankee pot roast made with carrots, onions, celery, and red wine is easy to make on the stove! For this Instant Pot® recipe, I adapted our recipe for classic Yankee pot roast, using baby carrots and frozen pearl onions to cut down on prep time.
Yankee Pot Roast instructions
Preheat oven 325˚..
Heat a large pot or heavy skillet over medium-high heat with cooking oil. Season the roast with the dried herbs and then sear the meat in the hot oiled pan for 5 minutes per side.
Place the meat in a heavy Dutch-oven pot and add the broth, wine, and the bay leaf. Add all the onions and a small sampling of carrots and celery. [The main vegetables will be added in later].
Cover the pot and place in a heated oven for 1 hour and 45 minutes..
Remove the pot from the oven and drain off about 2 cups of the pot juices into a small / medium sized pot. Add the tomato paste to the juices, stir occasionally, and heat until a slight boil..
Reduce the heat to a simmer and cook uncovered for 10 minutes. [The gravy will begin to thicken a bit] Season with salt and pepper, including some clove and ground allspice. Add the Marsala wine to taste..
Discard the cooked carrots and celery from the large pot and add in new ones along with the bell pepper and mushrooms and the "new" gravy..
Carefully flip the roast over and place the pot back in the oven, uncovered, and continue to cook for another 1 hour and 20 minutes..
The pot roast is done when the vegetables (carrots & celery) are soft to the bite. Serve with mashed potatoes or wide flat noodles..
Coating the roast with seasoned flour before browning adds flavor and helps thicken the sauce–an important step in a sealed system where water can't evaporate. Melt the butter in the casserole. Remove pot roast and vegetables; keep warm. Skim fat from cooking liquid, if necessary. Carve pot roast into thin slices.